What May Cause Inferior Calcaneal Spur
Overview
The heel bone is the largest bone in the foot and absorbs the most amount of shock and pressure. A heel spur develops as an abnormal growth of the heel bone. Calcium deposits form when the plantar fascia pulls away from the heel area, causing a bony protrusion, or heel spur to develop. The plantar fascia is a broad band of fibrous tissue located along the bottom surface of the foot that runs from the heel to the forefoot.
Heel
spurs can cause extreme pain in the rearfoot, especially while standing or walking.
Causes
Heel
Spur
typically occurs in people who have a history of foot pain, and is most often seen in middle-aged men and women. The bony growth itself is not what causes the pain associated with heel spur. The pain is typically caused by inflammation and irritation of the surrounding tissues. Approximately 50% of patients with a heel spur also experience Plantar Fasciitis.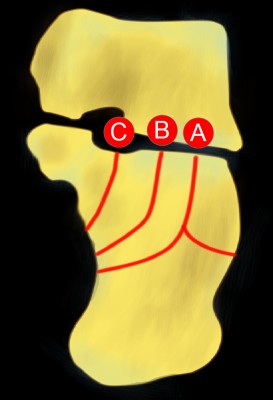 Symptoms
More often than not, heel spurs have no signs or symptoms, and you don?t feel any pain. This is because heel spurs aren?t pointy or sharp pieces of bone, contrary to common belief.
Heel
spurs don?t cut tissue every time movement occurs; they?re actually deposits of calcium on bone set in place by the body?s normal bone-forming mechanisms. This means they?re smooth and flat, just like all other bones. Because there?s already tissue present at the site of a heel spur, sometimes that area and the surrounding tissue get inflamed, leading to a number of symptoms, such as chronic heel pain that occurs when jogging or walking.
Diagnosis
A thorough medical history and physical exam by a physician is always necessary for the proper diagnosis of heel spurs and other foot conditions. X rays of the heel area are helpful, as excess bone production will be visible.
Non Surgical Treatment
Bone spurs rarely require treatment unless they are causing frequent pain or damaging other tissues. Because heel spurs and plantar fasciitis are so closely related, they are usually treated the same way. Symptomatic treatment involves rest, especially from the activity that is contributing to the condition and making symptoms worse (although this may not be easy to discover, as problems can manifest several hours or days after the harmful activity has occurred). If you identify the offending activity, ice is recommended immediately following it. Stretching of the calf muscles after a short warm up is also a good idea and can be helpful. Stretching exercises that gently lengthen the calm muscle will relax the tissue surrounding the heel and should be done several times a day, especially in the morning and after prolonged sitting.
Surgical Treatment
Surgery, which is a more radical treatment, can be a permanent correction to remove the spur itself. If your doctor believes that surgery is indicated, he will recommend an operation - but only after establishing that less drastic methods of treatment are not successful.